Happy Independence Day!!
I really love holidays where we have
NO PLANS!!
The turn out to be such fun days.
We saw some awesome fireworks last
night, so my kids enjoyed sleeping
in late or falling back to sleep.
While they were sleeping I've been
working on freebies that I promised
last week and testing some
Paint Shop Pro Scripts.
Today is the 2nd day of
Digi by Designs
Independence Day Sale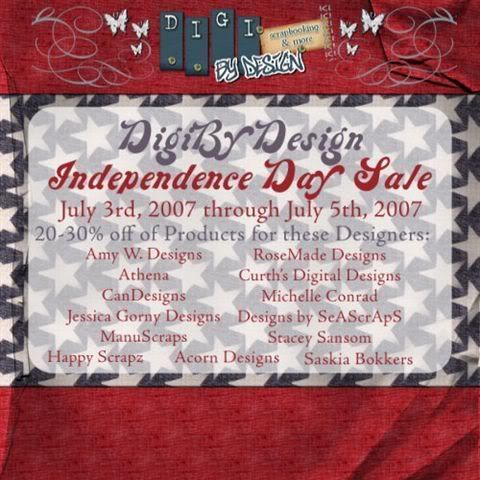 in my portion of the store you can save
30% off (including commercial use items)
Visit the Store

This week I have a new
Paint Shop Pro Script in the mall.
Basic Elements 1
This script uses papers, colors and textures
of your choice to create 5 Basic Elements
for scrapbooking: 12 inch Ric Rac, a set
of 4 photo or page corners, a clip, an Eight
Petal Paper Pieced Flower and an eyelet.

This item contains: Templates for the elements, Script files,
Full Instruction and email information,
if you need any help or support.

AND FINALLY....
Thanks for reading and being so patient
to wait for this weeks freebies.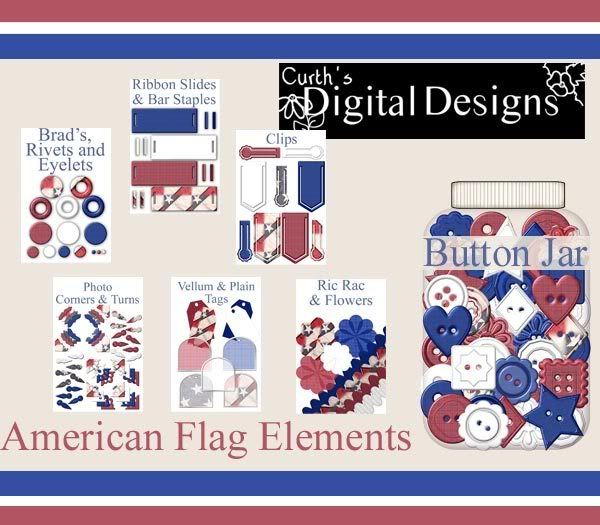 Sorry ran out of bandwidth on the
first link, so I had to break the file
into 2, you can try these
zip1 zip2
Now I have had an issue with esnips
they don't like you downloading 2
large files at a setting, so
if you can't get both right
away be sure to check back.
Sorry for the inconvience.
Sorry I got a little carried away with
the buttons, but they are so easy
to do with this script

Anyway, Happy Scrapping Everyone
MaryAnne